Do you need a little extra love inside your home?  Our Initial Maintenance Cleaning and Deep
Cleaning Service

will get your home back in order!  Are you ready for that sparkle?
Deep House Cleaning Services
Every Recurring Service Starts With a Deep Cleaning
When you're starting a recurring service, our Initial Maintenance Cleaning is a budget-friendly way to get your home professionally cleaned.  We will give your home a little extra love on this cleaning.  We clean your kitchen, bathrooms, bedrooms, dust your home, dust your ceiling fans, vacuum and mop all hard surfaces and vacuum all the carpets.  When finished your home will be clean and sparkly!   
One-time Deep Cleaning Service
Does your home need a lot of cleaning love?  This service is for you!  This is our most in depth cleaning.  Your home gets a detailed cleaning from top-to-bottom by our professional and skilled Cleaning Technicians.  We use our detailing tools to get your home back up to tip-top shape!  We hand wipe your ceiling fans (if we can reach them), hand wipe the doors, trims, baseboards, kitchen and bathroom cabinets!  This cleaning is typically 50% more time than an Initial Maintenance Cleaning for a more detailed clean.  
We want you to be able to control the adding of extras to fit your needs.  You can add additional bed making, inside your refrigerator, wood blind/shutter cleaning, washing of baseboards and interior of the oven to any service for an additional charge.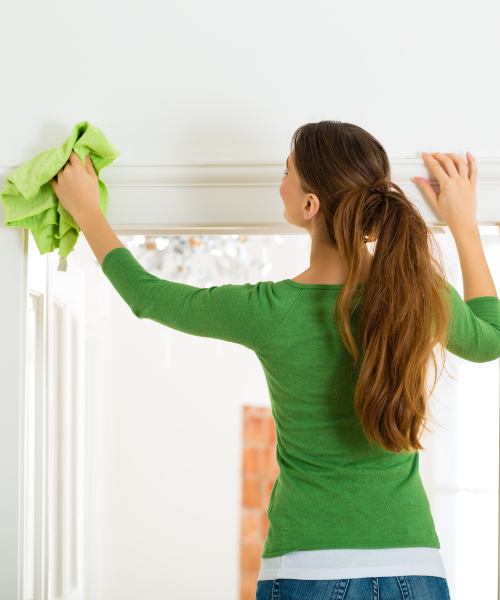 Get Your House Deep Cleaned and Relax!
Is your house feeling a little dirty? Do you want to spend more times enjoying your home and less time cleaning it? No need for worry! Our deep house cleaning service will leave your place fresh and clean, so you can come back after a long day at work without taking on any cleaning chores. We use professional products, we're fast and thorough, and our prices are unbeatable.
We Offer the Best Deep House Cleaning in Peoria - Guaranteed!
Our deep cleaning service is extraordinary. We break out the detailing brushes to get every nook and cranny of your home cleaned. We will detail dust the entire home, wash down all wood work like doors, door frames, cabinet fronts and such. Additionally, we will expertly vacuum and mop all floors. And because we know how important hygiene is these days, we will disinfect all high-touch surfaces with an EPA-approved disinfectant for Covid-19.
Why Does My Recurring Service Need to Start With a Deep Cleaning?
Every new recurring cleaning service clients starts their service off with a deep cleaning. This give us the opportunity to get your home in tip-top shape so when we come back on a regular schedule we can maintain that level of cleaning. Even for our recurring clients, we recommend a deep cleaning at least once a year.
GET THE CLEANING YOU NEED